The Early Years 2
Seaghain-An-Diomais "Shaun the Brave" The Shaun's
Founded in St Paul's club, in Cavendish square Belfast in the year
1901.
Prominent early members:
T.Madden, J.Maguire, H S Slowey, J. Hamill, J Hynds, J.S MGee, M Mulholland( from Belfast Harp's) B Manning Senior( later to Dalcassians), T, Marley, J McGinley, P McGinley, F Vallely, J, Sheehan, H Sheenan, JJ Murphy, F Maghee, T Gillighan, JM Mulvihill, P Barnes, F Mc Coey, P Mc Coey, J McFirran (From the Red Hand), J O'Neill " The Rock", C McGinlay, M Mc Ginlay, G Hatton, J Dunne, Buckie Stewart, H Dobbin, C Dalton ( A native of Armagh City), W Rea, A McBride, P Mann Junior, H Collegan, J Connolly, M Close Junior, A Hillan, J Bradley, James McSparron, S Barnes, F J Mc Carragher ( From Crowley's in 1912).
The Belfast Celtic Soccer Club
had just vacated premises on the Whiterock Rd, and moved to Celtic Park on the Donegall Rd. The Seaghain-An-Diomais club succeeded in renting their former ground. The park was re-named The Seaghain-An-Diomais Park and as "Shaun's Park", became the County ground. Shaun's Park was officially opened in September of 1903. A monster sports meeting was held before 5,000 enthusiastic spectators. The ground was generally regarded as the playing head quarters of the Antrim GAA. Ulster hurling championships were played there, while other counties including Kilkenny, Louth, Cork and Dublin also visited. It later became known as MacRory park. Many years later during the last "troubles" it was comindeered and became a British Army Military base, before eventually becoming home to Cardinal O'Donnell.
Honours:
S Antrim Senior Hurling Champions 1908/1910 & 1915, Antrim Senior Football Champions 1903/1906, 1909 & 1910.
Below is the first outing arranged by The Seaghain-An-Diomais Club to Feymore, Lough Neagh, in 1904. This photo has been loaned to us by Mr J Dempsey, Belfast.This is the only known photographic link to Seaghain-An-Diomais.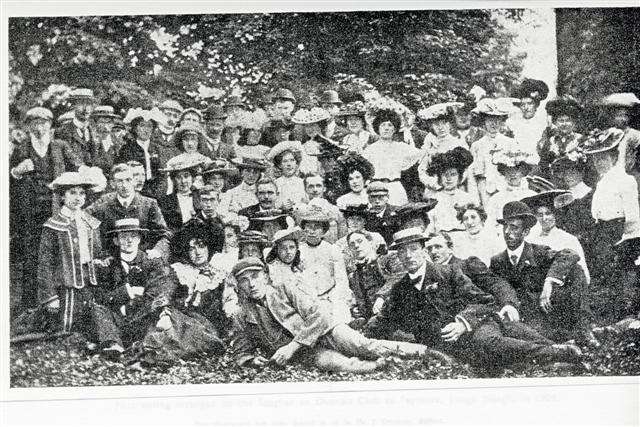 John Mitchel's – 1900
John Mitchel's club was formed in the New Lodge Rd area in 1900 and are the oldest team in Antrim. The club moved to the Falls Rd district in 1906. Their headquarters were held in a large military hut on the Willowbank Ground at Broadway. They rejoined the South Antrim Leagues in 1907 as a Football and Hurling club. They were previously only a Hurling Club. The Club went out of existence during the turbulent period of the 1920's, but reformed in 1930 and in 1935 won the South Antrim Junior Hurling Championship.Mitchel's have won many trophies, too numerous to list.
These are just a few,
Honours: Senior Football, 1911/1912 | Junior Football 1951 & 2002 | Minor Football 1951 | Intermediate Hurling 1975/85 | Senior Hurling Champions 1947.
Early Prominent members:
E. O'Driscoll, T. O'Malley, E.McDaniel, John Mulraney, J Manning, B. Connolly, D. Murray, J. Gilbraith, J. Powers, t. Dalton, N. Clarke, B, Pimley, H. Erskine, J.O'Boyle, M. O'Reilly, T, Burren.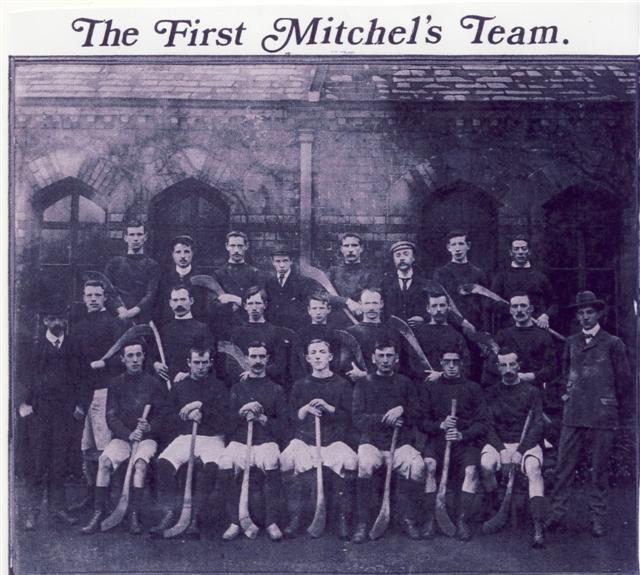 John Mitchel- (1815-1875)-The man himself
John Mitchel was born in Dungiven on the 3rd November 1815. He was a member of the Young Ireland Party, and was considerably outspoken, forever proclaiming his "holy hatred of British rule". He was found gulity of treason-felony and sentenced to 14 years transportation to Van Diemen's Land. He left his native land on the 27th May 1848, not to return for 27 years.
He was invited back to oppose a vacancy in Tipperary for the British Parliament. By this stage he was a dying man. Eight days after victory was proclaimed, he died in his home in Dromolane, Newry on the 20th March 1875. His remains can be found in the family vault in the Little Unitarian Cemetery, Newry.